Casablanca Ceiling Fan Repair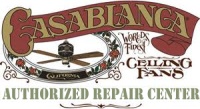 Voltage Man is an Authorized Casablanca Service Center for Fresno, Visalia, Hanford, Clovis, and the entire San Joaquin Valley.
We can repair ANY Casablanca Ceiling Fans. In fact, we'll come to YOU and fix it at your location!
Do you have a need for a Casablanca Ceiling Fan repair? Please call me at 559 438-5764 or fill out the form below to save time and schedule an appointment. Fields in bold are required.
Voltage Man also services other ceiling fans from Minka-Air, Emerson, Hunter, Hampton Bay, Harbor Breeze, Homestead and more. Call Voltage Man to come out and fix your ceiling fan today! 559 438-5764.
(NOTE: Do you need any electrical repairs or electrical wiring other than ceiling fans? Please fill out the Service Request Form here.)